Stephen Dunham, DPM, AACFAS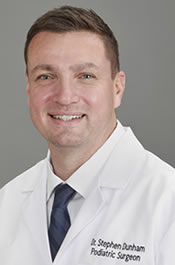 Do you suffer from foot and ankle pain? We can help!
I am Dr. Stephen Dunham, a surgical trained podiatric physician specializing in foot and ankle reconstruction. My experience includes management of foot and ankle trauma, diabetic limb salvage, lower extremity wound care and general podiatric medicine.
I enjoy working in a team approach and devising feasible solutions alongside other specialties to provide the highest level of care to patients in need.
If you have foot and ankle pain, or have any concerns regarding your foot health, you can reach me at:
Bethlehem Podiatry
Phone: 518-439-0423